When searching on the Internet, you can find a lot of complaints declaring that 'real off-road vehicles are no longer produced.' The amount of such comments can even make you believe that so many people spend most of their lives on the most difficult road expeditions. They conquer the most hopeless places on the planet, rescuing Tasmanian wolf cubs, wombats, polar bears and survival tourists. And suddenly it turns out that there is nothing to drive through the deserts, tundra and jungle, since the companies 'no longer produce real off-road vehicles.' It's actually not that bad.
They exist!
There are not so many models designed for the average user, but capable of driving through very tough terrain, than, for example, in the 90s. This is due to the growing popularity of the crossover SUV format. Crossovers and SUVs are imitations of off-road vehicles, so they often look more brutal than the most brutal track-based off-road vehicle, but it is better to drive these vehicles on the highway.
But manufacturers understand that the overwhelming majority of people are not going to overcome serious off-road conditions, therefore the frame, beam axles, winches, a transfer case with internal reduction gear and blocking and other delights of a real off-road vehicle are redundant. The vast majority of consumers just want to have a powerful, comfortable, roomy and eye-catching vehicle, perfect for a cool selfie. All of these characteristics are offered by fake SUVs, which now form the basis of the automotive market, displacing all other formats. Do not forget that a real off-road vehicle is not a cheap pleasure, so it is much easier to buy a stylish SUV and show off against it on the nearest beach.
As for real off-road vehicles, they do exist and enjoy stable albeit limited demand, since the target group of off-road and jeep fans is relatively small. These people remain loyal to low-profile all-purpose vehicles, and manufacturers are satisfying their needs with existing models (which drivers customize anyway). There are few new models among off-road vehicles (but there are!), since those that were created in the 'golden era' and are well designed, have already been tested on all roads, are free from shortcomings and it is enough to upgrade them periodically but not too often.
By the way, during the coronavirus pandemic, the demand for true off-roader began to grow. Either the earthlings were preparing for a full-fledged zombie apocalypse, or they wanted to escape from Bill Gates' vaccine with microchips, but now the off-road vehicle global market is $14 billion and is growing at a rate of about 4% per year. So there can be no question that real off-road vehicles are a thing of the past.
What vehicles are these?
The latest version from Wrangler retains its core off-road merit, namely the rugged 'old-school' front axle, which provides advantages in the off-road conditions. The Jeep Wrangler Rubicon, the most powerful off-road version of the company, is positioned as the most powerful production off-road vehicle. It was named after the 22-mile off-road track in Northern California. With off-road tires, steel bumpers, 4:1 gear ratio, electronic differential locks, 3.6-liter petrol engine producing up to 285 hp, 6-speed manual transmission and many additional off-road options, the Rubicon remains one of the off-road leaders. The Rubicon 392 modification is equipped even more thoroughly than the 'regular' Rubicon. It has specialized shock absorbers, a lift, and a more powerful engine.
The Toyota 4Runner is an old but time-honored off-road vehicle. The 4Runner TRD Pro is the most off-road-oriented package in the 4Runner range. It comes with an ancient but still relevant 4-liter V6 that produces 270 hp via a 5-speed automatic transmission. The 4Runner is made for uncompromising off-road, so it is not very suitable for the highway. The model is all-wheel drive, has all the serious off-road options such as a rear differential with electronic locking, an all-wheel drive system Multi-Terrain Select and Crawl Control. The 4Runner has an extremely utilitarian interior, featuring large and bulky handles, while all off-road controls are on the ceiling above the rearview mirror. By 2021, the 4Runner TRD Pro has finally gained some modern options.
The Ford Bronco is a compact body-on-frame off-road vehicle produced from 1966 to 1996 and brought back in 2020 as a purely utilitarian off-roader. The 2020 Ford Bronco is powered by a 2.3-liter turbocharged 4-cylinder engine producing 300 hp. It is also possible to install a 2.7-liter twin-turbo V6 engine with 330 hp. A 10-speed automatic transmission can accompany both engines, and a 7-speed manual transmission is only compatible with a smaller engine. The manual gearbox has an advanced internal reduction gear that allows the engine to operate at pedestrian speed while handling extremely steep climbs. The SUV is capable of towing 1.5 tons of cargo. As a modern off-road vehicle, the Bronco is blessed with a fairly impressive number of modern options. But the doors and the roof are removable, like a quarter of a century ago, so that they do not fall off when jumping over the mountains. However, you should wait for user reviews to assess how the revived Bronco lives up to the glory of a great ancestor.
The Gelandewagen is an SUV with a military background and one of the coolest SUVs in the 90s. Now the vehicle has become much more powerful. The all-wheel drive G-Class can be equipped with a petrol or diesel engine. The 4-liter petrol turbocharged V8 engine produces 422 hp, while three 3-liter diesel turbocharged engines can generate 249, 286 and 330 hp. All engines are accompanied by a 9-speed automatic gearbox. The decline in 'military off-road' qualities is due to the fact that the Gelandewagen has become more luxurious and respectable. So, the new Mercedes G-Class will not handle the most difficult off-road, but it has retained its main off-road potential. If you want a truly off-road Gelandewagen, Wrangler's rival, you'll have to go back to the iconic 90s model.
A full-size all-wheel drive SUV, produced since 1951, but still in 2021, has not lost its off-road potential. It's still a mighty body-on-frame structure, with a solid suspension that can tackle the harshest terrain. Restyled this year, the Cruiser has acquired a new 2.8-liter diesel 4-cylinder 16-valve engine with 200 hp and all the necessary functions to overcome the roads. Plus it has the most advanced comfort and safety options, as befits a modern car.
The F-150 Raptor is one of the off-road icons. Moreover, the Raptor is designed for high-speed off-road driving, which makes it unique. The latest incarnation of the Raptor is equipped with a 450-horsepower twin-turbo V6 engine that allows it to reach its maximum possible speed on the toughest roads. The new Ford F-150 Raptor has retained all its qualities since 2009, when it became the hero of the Baja 1000, but the chassis has been completely redesigned based on previous experience. For example, there is a completely new five-link rear suspension, the largest shock absorbers in its history, an all-steel frame, plus modern electronic options.
The Toyota Tacoma TRD Pro is aimed at competing with the Raptor itself and once made a splash in the market for real off-road vehicles designed to quickly overcome any obstacles. The Toyota Tacoma is an impressive pickup, but with the 2015 TRD Pro trim, the vehicle has become a dangerous competitor to the Baja. The SUV is powered by a 3.5-liter V6 engine producing 278 hp and a torque of 265 Nm, a 6-speed automatic or manual transmission, all possible off-road options, including Mud And Sand, Stone and Mud, Stone and Loose Stone driving modes, but, according to reviews, you don't have to switch from one mode to another often, since the turbojet engine overcomes any obstacles in the basic mode.
It seems that the Defender has existed forever, apparently, Columbus discovered America, while driving this vehicle. This is because the Defender has been produced since 1990 in an almost unchanged form and continues to be one of the best SUVs of all time. The latest Defender is an all-wheel drive modern high-tech SUV that has retained all its off-road potential (according to the developers, even though it has lost the frame structure). The new Defender offers three possible turbocharged 4-cylinder, 6-cylinder and 8-cylinder engines and comes standard with all-wheel drive. The Defender can have, depending on requirements, a 2-door 90 body and a 4-door 110 body, advanced off-road equipment, including adjustable air suspension and differential locks. In terms of off-road performance, the Defender is put on a par with the Jeep Wrangler, but the Defender surpasses it in terms of luxury finishes. At the same time, the Defender has a reputation for being a very demanding car.
The Bowler Bulldog, created by Bowler Manufacturing Ltd (UK), a manufacturer of professional off-road vehicles based on the Land Rover Defender and Range Rover chassis, is now owned by Land Rover. The Bulldog is built on a Range Rover Sport chassis and reinforced with custom springs and dampers. Both petrol and diesel turbocharged engines are available, with a huge fuel tank. The engines can produce 567 hp, depending on the configuration. Off-road body kit is offered depending on the requirements of customers, among which are mainly fans of the dirtiest (in the literal sense) races.
The Wagoneer is the legendary continuation of the Willys vehicles, actively used during the Second World War. The first generation Wagoneer had been produced since 1963 for thirty years. It earned the unconditional status of a legend for combining off-road capabilities with large size and weight. At the very beginning it was hard to decide whether it was an SUV or an off-road truck. But since it looked like an estate and had a good interior, it was ranked as a passenger car.
The Wagoneer brand has been reborn as the Jeep Wagoneer and Grand Wagoneer in the same off-road format. Both versions are equipped with three types of 4×4 system. The Wagoneer is powered by a 5.7-liter V8 engine standardly equipped with a next-generation 48-volt eTorque hybrid. The 2022 Grand Wagoneer is powered by a more powerful 6.4-liter V8 engine. Both engines offer the ability to handle any terrain and best-in-class traction capacity of up to 450 kg. The new Wagoneers look the same as the old ones, resembling the estates. Various configurations of both versions are offered, including the maximum one, but, in any case, the vehicles are equipped with all available modern options and functions. However, paying tribute to the old Wagoneer, let's wait to see how its new incarnations correspond to the status of a legend.
The Suzuki Jimny is a compact but real off-road vehicle, produced since 1970, that remains a living legend to this day. It is still a 3-door all-wheel drive body-on-frame SUV, with short overhangs, continuous axles and plug-in all-wheel drive. Now it is standardly equipped with a 1.5-liter petrol distributed injection engine with 102 hp, accompanied by a 5-speed manual transmission or a 4-speed automatic transmission.
And, completing the never-ending conversation about off-road vehicles, one cannot but recall the unforgettable Mitsubishi Pajero. It first hit the dirt with its bumper in 1981, conquered the Dakar 12 times and was repeatedly recognized as the best off-road vehicle in the world. The last batch of 800 Final Edition SUVs went to Australia in 2021. The latest Pajero are equipped with 3.2-liter turbocharged diesel engines with 189 hp and a torque of 441 Nm, accompanied by a 5-speed automatic transmission. However, let's not say goodbye to this vehicle. In recent years, automakers have tended to revive ancient brands. So Mitsubishi can still bring the Pajero back. It is a very good vehicle.
Which off-road vehicle will you choose?
Average consumption

12.4 l
Daimler
Let's compare two magnificent luxury sedans and choose the winner.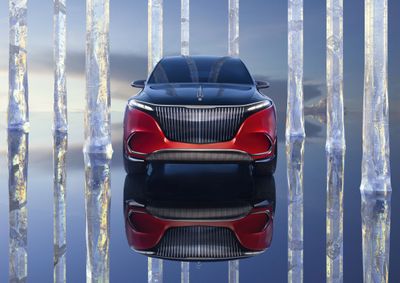 The Mercedes-Maybach EQS is not a liftback, but an SUV. It is still a concept vehicle, but it is will soon become a production electric SUV from the super-luxury brand.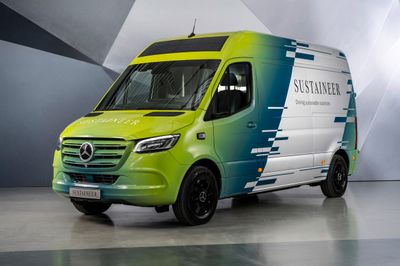 Let's look at the future. Meet the Sustaineer, Vision Van and Vision Urbanetic futuristic vans: unmanned delivery, drones and "moon rovers".