Cars characters in real life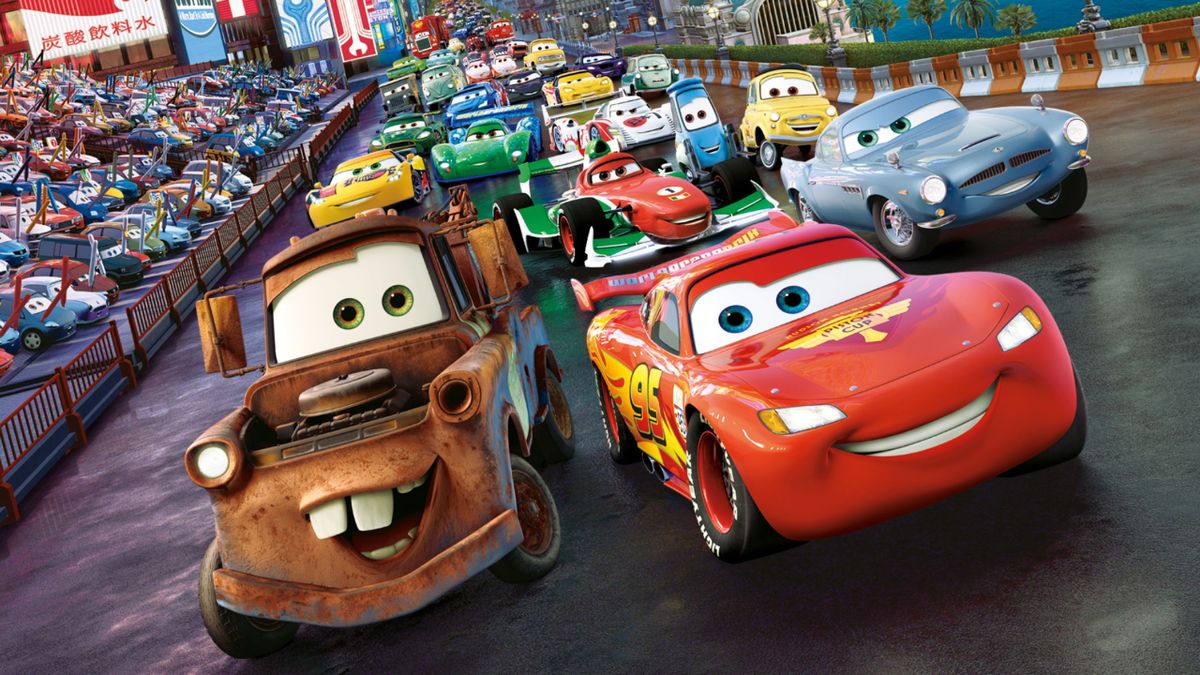 Sometimes life can surprise you in an unpredictable way. Once my adult son and I decided to re-watch all the episodes of Cars Cartoon, probably the most iconic for all fans of cars and speed. My son is almost 18 years old, so I no longer need to bring him up, as well as to answer a bunch of 'why' questions or explain the meaning of life… Instead we can just sit and enjoy our favorite cartoon, eating chips, laughing and throwing smart and precise remarks. Overall, nothing foreshadowed trouble… Until the moment when my son asked me: 'What kind of car is Lightning McQueen?' Well, we know Bruce Willis portrays John McClane in the Die Hard, Robert Downey Jr. plays the Iron Man, but what kind of car is Lightning McQueen modeled after? And to my shame, despite being an automotive journalist and knowing a lot about cars, I just got stuck.
This is how I came up with an idea to figure out which car models became the prototypes for the characters of the beloved Cars. I will gladly share with you, and you can impress your children with your knowledge. By the way, animators drew over 43,000 cars when working on the cartoon. They invented a whole automobile city and even a world where cars could dream, fall in love, feel sad and live a real 'human life'.
Lightning McQueen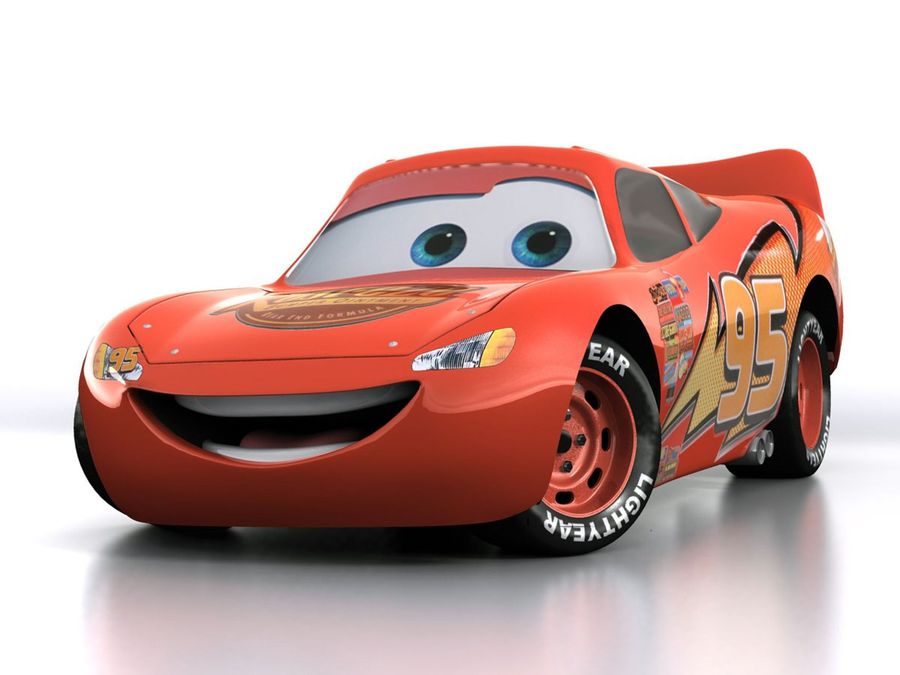 McQueen is a racing sports car that flies along the track like lightning, fully living up to its name. He loves racing, can train for hours, and wants to become a Champion. He is impetuous, moderately reckless, but kind, friendly, brave, loyal and loving. The cartoon artist Bob Pauley answers the question about the McQueen prototype this way: 'When designing the protagonist of Cars, we took the best of our favorite things, from GT40s to Chargers… just sketching them out, we came up with what McQueen looks like'. The Ford GT40 is a sports car, a 4-time winner of the 24 Hours of Le Mans from 1966 to 1969, and was specially designed to win long-distance races against Ferrari. The 1969 Dodge Charger Daytona, a racing modification, legendary muscle car, one of the most famous cars, had improved aerodynamic characteristics and demonstrated tremendous dynamics, accelerating up to 330 km/h. Moreover, motorists notice that Lightning looks somewhat similar to a Chevrolet Corvette C6 in the front and a Dodge Viper at the rear. By the way, the number '95' was not chosen by chance. It was in 1995 that the first Disney/Pixar cartoon 'Toy Story' was released.
Doc Hudson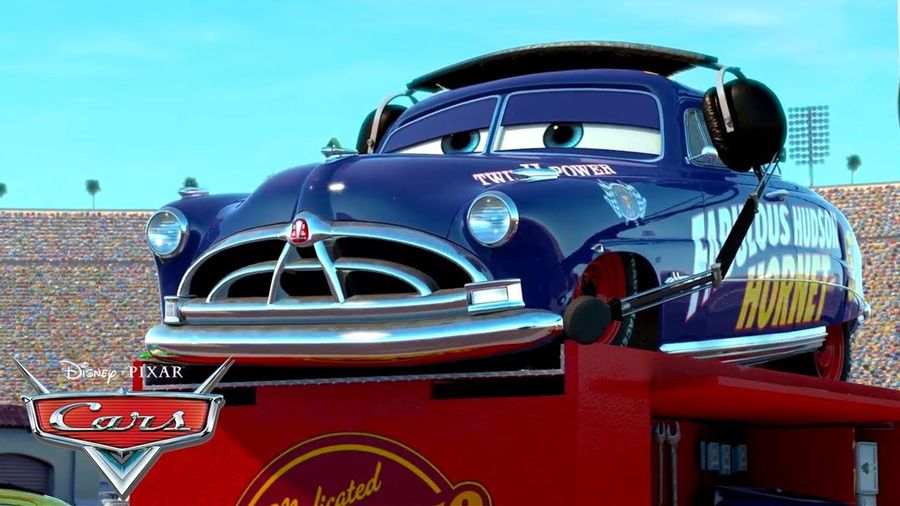 Doc Hudson, or simply Doc, is a retired racer working as a village doctor (mechanic). It is he, the former undisputed champion of the Big Piston Cup, who prepares Lightning for the competition. Its prototype is the Hudson Hornet, which raced repeatedly and dominated production racing cars in the early 1950s. The Hudson won 24 of 37 NASCAR Grand National races in 1952, 22 of 37 in 1953, and 17 of 37 in 1954. In total, the Hudson Hornet has won 40 competitions in 48 events. The car, driven by legendary racer Marshall Teague, won 14 AAA circuit racing competitions in a single season and was named the Fabulous Hudson Hornet. It is most likely that he is the real prototype of Doc.
Mater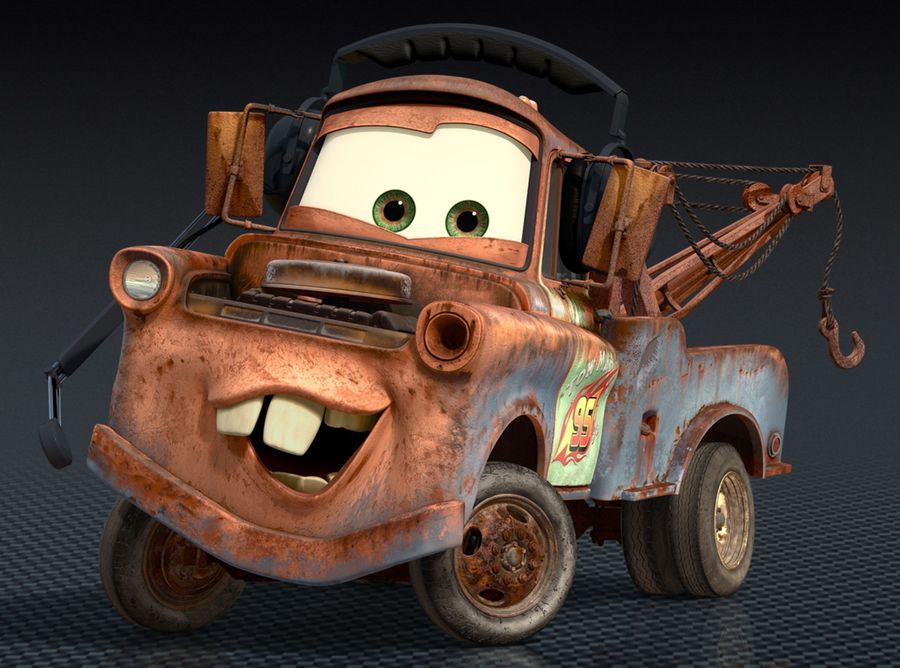 This is our favorite character! Cheerful, funny Mater is the best friend, funny guy, who scares tractors at night, participates in survival races and loves his job very much. And no wonder, as he's a real tractor! Official sources say that the prototype of the Mater is a car tow truck manufactured by International Harvester in 1956-1958. But opinions on this matter are divided. It can also be a Chevrolet 3800, a 1957 Dodge Power Giant, or a 1955 GMC Blue Chip 150.
Sally Carrera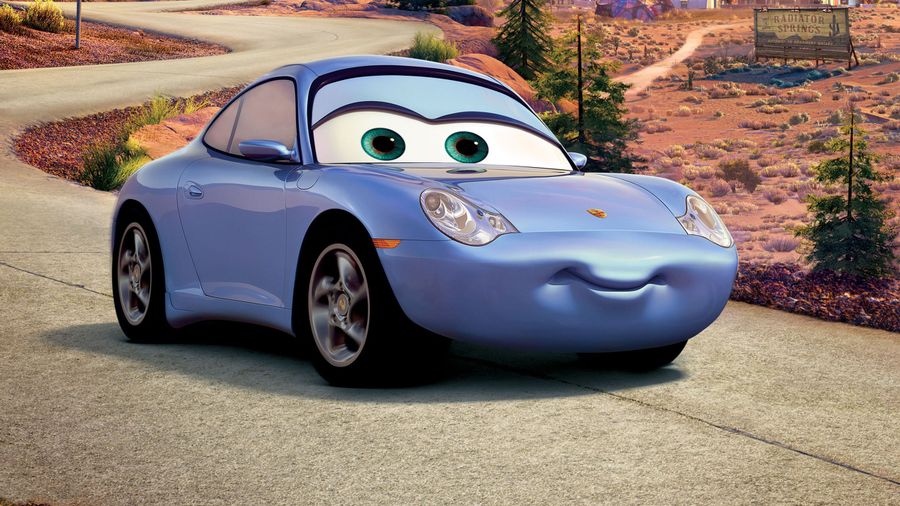 Beautiful Sally is a lawyer, a strong-willed lady, a businesswoman, an urban girl who has moved to a small rural town and defends the rights of its inhabitants. She is also a loving and understanding friend of Lightning. The prototype is the Porsche 911 Coupe, apparently the fifth generation, which was produced from 1997 to 2005.
Mack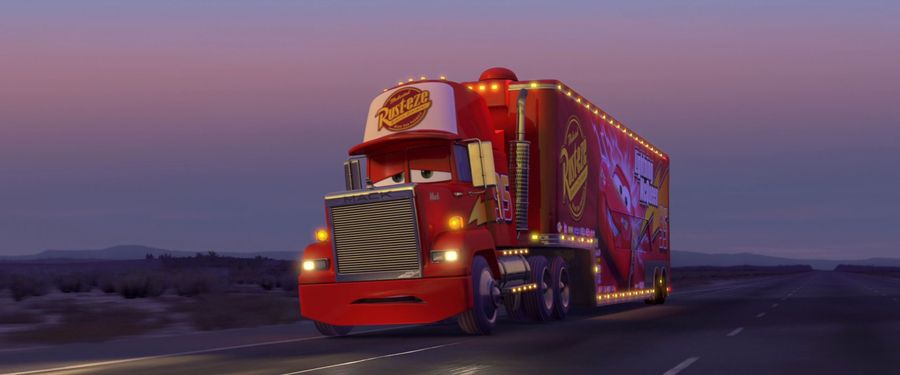 Mack is a truck, a huge tractor with a trailer. Mack and McQueen work together on the Rust-eze team in the Big Piston Cup races. Mack transports Lightning to all Cup races. But he is also a true friend, loyal and devoted. The prototype is a 1985 Mack. Mack Trucks is an American automobile company founded by two Mack brothers back in 1900, one of the leaders in the production of heavy trucks. Famous American trucks that travel through the desert landscapes of Arizona, American long-range trucks, are a whole culture.
Luigi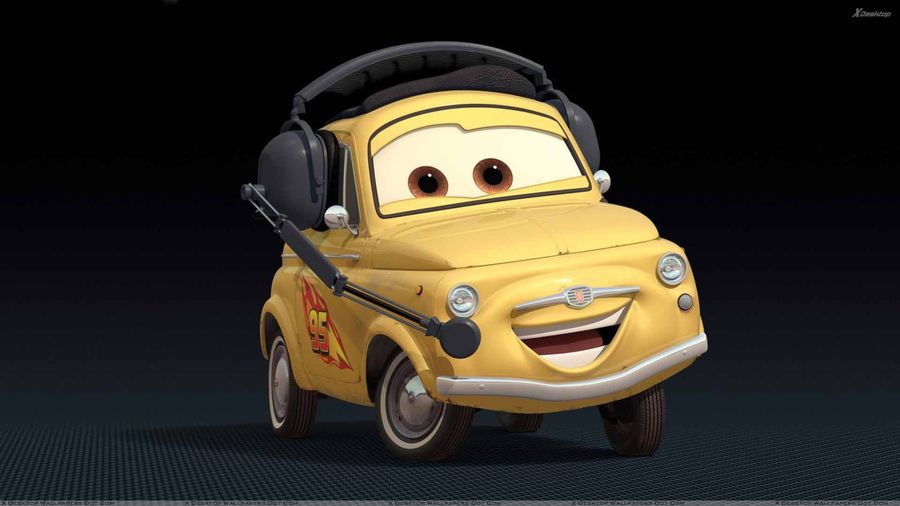 A passionate, emotional Italian, kind-hearted and cheerful, the owner of a tire shop, is well versed in tires and, together with his assistant Guido, is a constant and irreplaceable member of the team of the famous race car driver Lightning McQueen. Its prototype is a yellow 1959 Fiat 500. And even the license plate '445-108' was chosen deliberately. This is the latitude and longitude at which the Ferrari plant in Modena, Italy is located.
Chick Hicks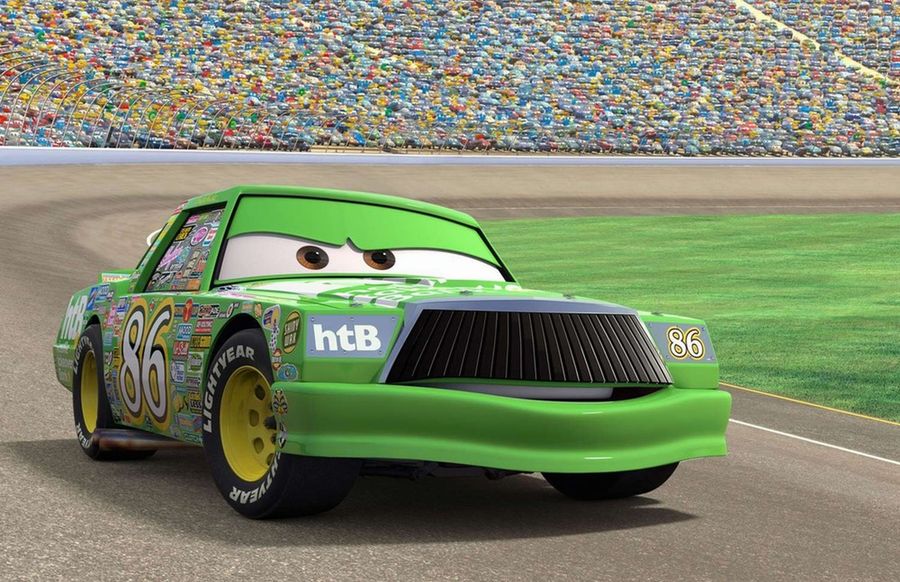 Well, every story needs a villain… The good, after all, must always triumph over the evil. A harmful, sarcastic and sneaky racer Chick, envies everyone, always trying to defeat King and Lightning, which he manages to do in a dishonest way. In the third film, he becomes the host of a television racing show. The prototype is a 1980 Buick Regal in a green racing frame with the number 86 on board.
King (Mrs. The King 'StripWeathers')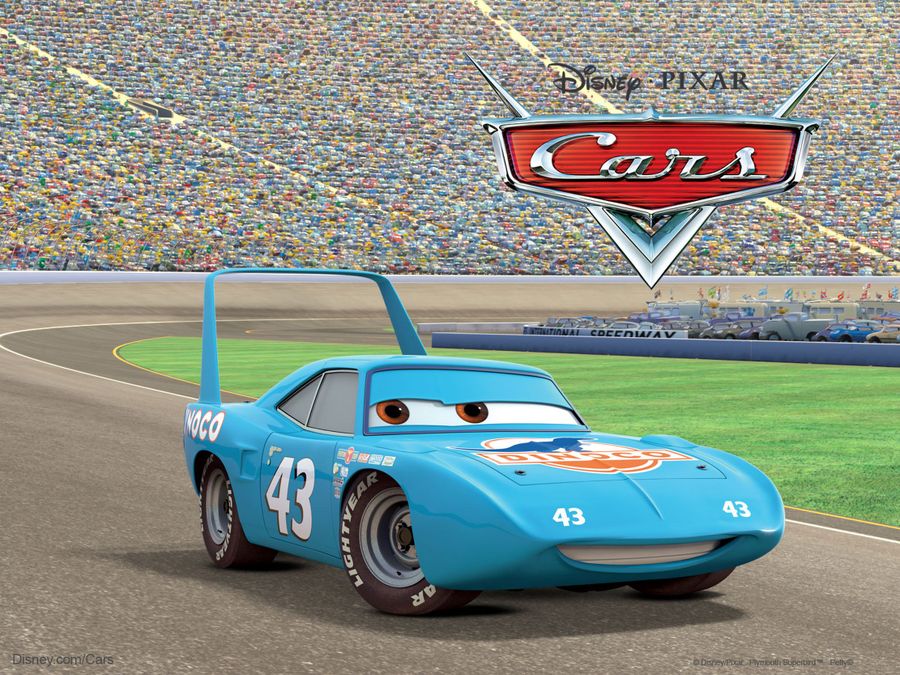 He was nicknamed 'King of the Roads'. The famous racer, multiple Piston Cup winner who won 7 races at the end of his career. He is a rival of Lightning and Chick on the track, but at the same time a friend of Lightning. Its sponsor is Dinoco. The prototype is the 1970 Plymouth Superbird, driven by renowned American racer Richard Petty, seven-time NASCAR champion known to his fans as the 'King'. The blue car with number 43 has become a real symbol of the racing world.
Jackson Storm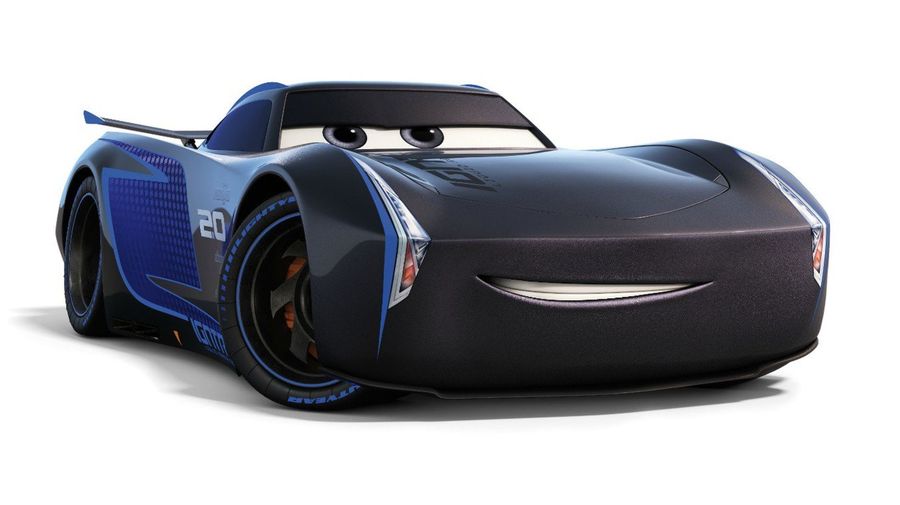 Lightning's main enemy on the track in the third part of Cars. A representative of a new generation of high-tech cars, capable of incredible things. Its sleek body is made of carbon fiber, its engine is a V8 with an output of 850 hp, allowing it to accelerate to 60 miles in 3.6 seconds, and its top speed is 214 mph. At the same time, he is arrogant and self-confident. He renounces all the authorities, insults and humiliates rivals. He has no direct prototype. He is rather the quintessence of all modern concept cars. And yet, "connoisseurs" and "amateurs" see in it either the features of the Nissan Vision GT show car shown by the Japanese in 2014, the features of the 2016 Chevrolet Camaro, or the 2018 Australian Brabham BT62 Competition Coupe of (compare yourself, Storm looks quite similar to an Australian supercar, especially if painted blue).
Cruz Ramirez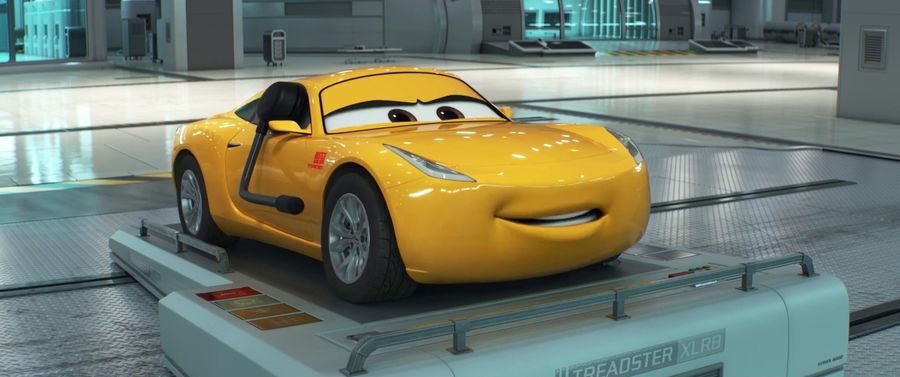 Let's end on a good note. Cruz is one of the main characters of Cars-3 Cartoon with the race number "51", inspired by the late Doc. Young racing coach and instructor is optimistic, sunny, friendly and happy to help Lightning. A real racer, she was able to overcome herself, believe in herself and, under the strict guidance of Lightning, took first place, becoming the new face of Dinoco. By design, this is a 2017 CRS Sports Coupe, but it does not have a direct prototype in the real car world. In some scenes, it resembles a European Ferrari F12 Berlinetta, mixed with the wide body of an American Camaro. From a different angle, she looks like a British Jaguar F-Type.
Supporting characters, many of whom are real rarities
Flo is a sassy owner of a café in Radiator Springs and Ramon's wife. The prototype is the unforgettable 1959 Dodge Regent.
Ramon is the owner of a local workshop, where he likes to paint cars, but most often, due to the lack of clients, he makes it to himself. Flo's husband. The prototype is the 1959 Chevrolet Biscayne, an American full-size sedan for those who love space and comfort.
Fillmore is the owner of a local fossil fuel store. Hippy, Sergeant's best friend, with whom he often argues. The prototype is the Volkswagen T1, produced from 1950 to 1967, one of the first civilian minivans, which became the face of the whole hippie era; also known as "hippie mobile" or "splitty".
Lizzie is the widow of Stanley, founder of Radiator Springs. The prototype is the legendary 1923 Ford Model T, also known as the 'Tin Lizzie'. Millions of such cars were produced by Ford from 1908 to 1927.
Tech is a representative of Dinoco. The prototype is a 1977–1978 Cadillac Two-Door Coupe Deville.
Michael Schumacher was voiced by Schumacher himself in the original version of the cartoon! The prototype is the Ferrari F430 Scuderia, a commemorative road version of the production sports car released in 2007 and presented by seven-time Formula 1 champion Michael Schumacher.
The magnificent Antonio Veloce Eccellente and Costanzo de la Corsa are friends of Michael Schumacher, the first is the owner of a network of gas stations in Italy. The prototype of both is the Maserati Quattroporte, most likely the fifth generation, which was produced from 2003 to 2012. A true icon of Italian elegance.
Boost is the leader of a gang of street racers. The prototype is the purple Mitsubishi Eclipse, a four-seater sports coupe.
And may those who I have not mentioned forgive me…
Ford Group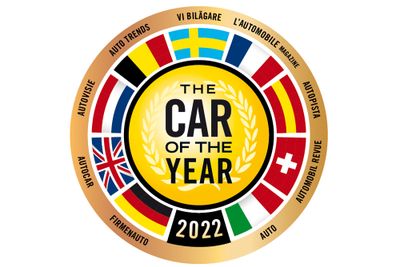 Six of the seven Car of the Year finalists are electric vehicles. A year ago, there were two electric vehicles. Let's talk about the best of the best.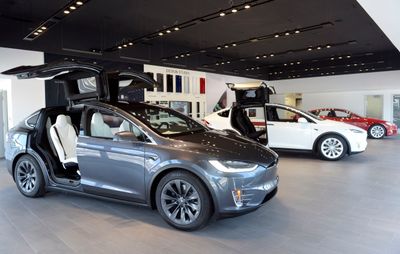 Tesla cars have a serious suspension problem, but no one has been hurt so far. Ford cars have improperly attached windshields, while Porsche has to deal with incorrect activation of hazard lights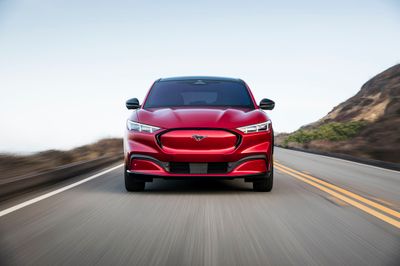 It was chosen the 2021 North American Utility Vehicle of the Year. Even the Tesla Model Y couldn't surpass it. Discover more.